Call for Papers
To All of the EAROPH Members and Other Experts and Students
EAROPH Japan and The Executive Committee of the EAROPH 2015 Regional Seminar in Japan cordially inform the "Call for Papers" as follows:
1. Date
June 1 - 3, 2015
June 1 PM: Opening Ceremony, Keynote Speech, Welcome Reception
June 2: EXCO Meeting, Three or more Sessions, Closing Ceremony
June 3: Technical Tour
2. Place
Ureshino-City, Saga-Prefecture, Japan
30 km north of Nagasaki Airport, 40 km east of Saga Airport, and 70 km south-west of Fukuoka-airport and Hakata (Fukuoka) railway station.
About 550 km west of Osaka, 700 km west of Nagoya and 1000 km west of Tokyo.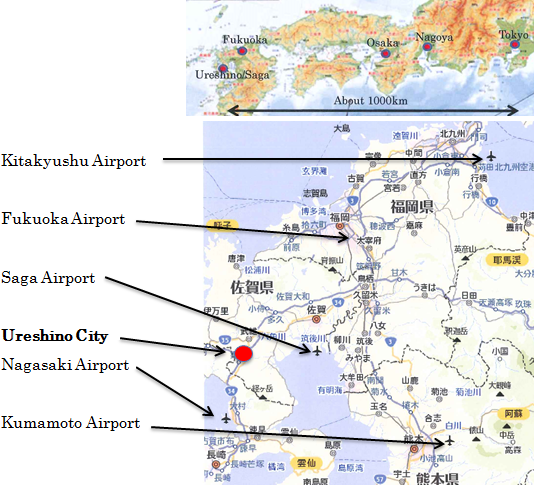 3. Themes
Main Theme
Planning and Housing Focused on Local Resources
Sub Themes

Session 1: Human Settlement---Ecology and Environment
Session 2: Health and Tourism
Session 3: Infrastructure and Development
4. Languages for paper and presentation
The Language for a paper and presentation should be either English or Japanese. Even in case that paper is written in Japanese, paper title, author name and abstract should be written in English. As interpreters will not be provided by the committee, presenters are requested to provide a support by themselves for better understanding.
5. Deadlines
Application for paper submission and presentation should be submitted before the end of December, 2014 using the attached form. Screening result will be notified by the end of January, 2015. Then, about 400 words of abstract and full paper of 2000 words or less should be submitted at the same time by the end of March, 2015.(Extended one month because of HP delay)
Full paper should be A4, 40 lines per page, written by MS Word 10.5 point century font, except tittles, as an attached sample page.
6. Fees, Screening and Copy Right
No fee is required for the application and presentation. Paper screening will be carried out under the "Paper Screening Committee" chaired by Dr. Hirohide Konami. Authors and EAROPH will keep free copy right.
7. Submission and Inquiries
Application form should be sent to the following mail address by the end of December, 2014.
Application Form